Selective Nerve
Root Blocks (SNRB)
Technically these should be termed selective ventral ramus blocks since only a small part of the ventral ramus as shown below is to be blocked. The block is used as a diagnostic block for presumed spinal nerve mediated pain and is not meant to be therapeutic.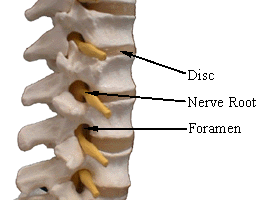 A similar block that is often confused with the SNRB by patients and physicians alike is the transforaminal epidural steroid injection (TFESI). The differences are based on the fact that in a transforaminal block, the intent is to bath the nerve root and spinal cord in steroid to reduce the inflammation from chemical irritation of the nerve root, while a SNRB is a diagnostic block whose injection material (usually a local anesthetic only) is meant to be kept out of the foramen and away from the spinal cord.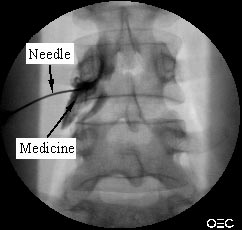 The drawing to the left demonstrates a SNRB with darker coloration on the ventral ramus in the area that should be involved in an injection. This small area of injection prevents the medications from anesthetizing other nerve structures which would confuse the diagnostic picture. The illustration below depicts a transforaminal steroid injection. Clearly, multiple nerves and structures are blocked in this instance, thereby invalidating the specificity of the block. Both blocks are performed in a similar manner, however lower volumes and slightly different needle placements are used. The terms SNRB and TFESI are often used incorrectly as interchangeable.