Percutaneous Disc Decompression
or
The DeKompressorTM Procedure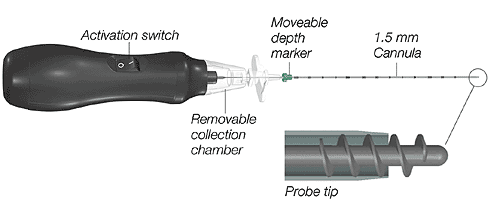 WHAT IS IT?
It is a procedure that is of benefit to patients with low back pain radiating into the legs from contained herniated discs who have not improved from other treatment options before surgery. It is performed using the above instrument with the patient under sedation and using local anaesthetic with the assistance of an x-ray guidance.
HOW DOES THE PROCEDURE WORK?
The DeKompressorTM lumbar discectomy probe as shown above is inserted into the disc, rotation of the exposed helical probe tip results in aspiration of the tissue and mechanical evacuation back through the cannula.
HOW LONG DOES IT TAKE?
The DeKompressorTM procedure could last between 1 to 10 minutes. This is in addition to pre-operative time, etc making the total procedure time to last between 20-60 minutes.
ARE THERE ANY POTENTIAL RISKS TO THE PROCEDURE?
Complications are very rare and include discomfort, bruises, bleeding, infection, nerve damage and paralysis. When performed by a trained physician in an accredited facility, the complication becomes more unlikely.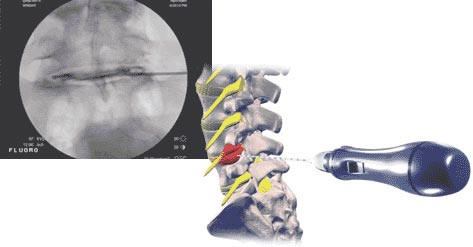 source: http://www.stryker.com/interventionalpain/dekompressor/clinic.htm