Radiofrequency Annuloplasty or Disctrode
WHAT IS IT?
Disctrode is a minimally method in which radiofrequency thermal energy is delivered to the disc. It is used when the catheter electrode used in delivering the RF thermal energy is introduced to the area of annular disruption of contained herniated disc that is causing the pain by coagulation and decompression of the disc material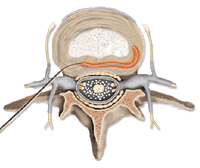 HOW IS IT PERFORMED?
The procedure is often performed in an outpatient surgical center and a mild sedative and local anesthetic may be used. Patient needs to be awake and alert during the procedure which is conducted under an x-ray guidance with the electrode inserted into the outer disc tissue.
HOW LONG DOES IT TAKE?
The disctrobe procedure itself takes about 30-45 minutes but you will need to be in the facility about 30 minutes before the procedure and you will be observed for another 30 minutes after the procedure.
ANY PRECAUTION ON THE DAY OF THE PROCEDURE?
You should not eat or drink after 12 midnight before the procedure EXCEPT little sip for your heart or blood pressure medications. A family member or friend should also pick you up after the procedure and ideally should not drive for the rest of the day especially after any mild sedation
ANY POSSIBLE COMPLICATIONS FROM THE PROCEDURES?
There could be complications from Anesthesia and also from the procedure including discomfort, bruises, infection, bleeding and paralysis. But these are extremely rare if performed by a trained physician in an accredited facility.
some of the above information and diagrams are from: http://www.valleylab.com/static/pain/patient-disctrode.html,
http://www.valleylab.com/static/pain/products-disctrode.html